Single survey
Great for organisations seeking to understand how their employees commute and the associated emissions.
Two separate survey periods
For organisations who are implementing workplace initiatives and want to track the impact.
*Annual Price, dependant upon the number of employees
12 month dashboard access
Toitū carbon compatible*
Easy to use, automated process
Data meets ISO standards
User-friendly dashboard
Employee privacy protected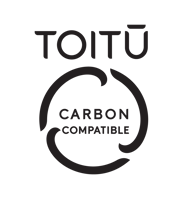 Toitū carbon compatible
Toitū Envirocare, an emissions certification body in NZ, has conducted an independent audit of the CarbonWise methodology and the survey inputs. CarbonWise survey results have been verified as Toitū Carbon Compatible and can be treated as pre-verified data suitable for use in an ISO 14064-1:2018 compliant inventory, including a Toitū carbonreduce or Toitū net carbonzero certified inventory.