Abley TrafficFlow delivers cutting-edge traffic data for comprehensive analysis
Abley TrafficFlow delivers state-of-the-art traffic data for comprehensive analysis. Unlocking advanced insights, Abley TrafficFlow provides detailed reports on road speed trends, dives deep into popular routes to and from a destination, uncovers the impact of public holidays on travel time, and creates an origin/destination matrix. Whatever your requirements may be, Abley TrafficFlow has the ideal solution tailored to meet your needs.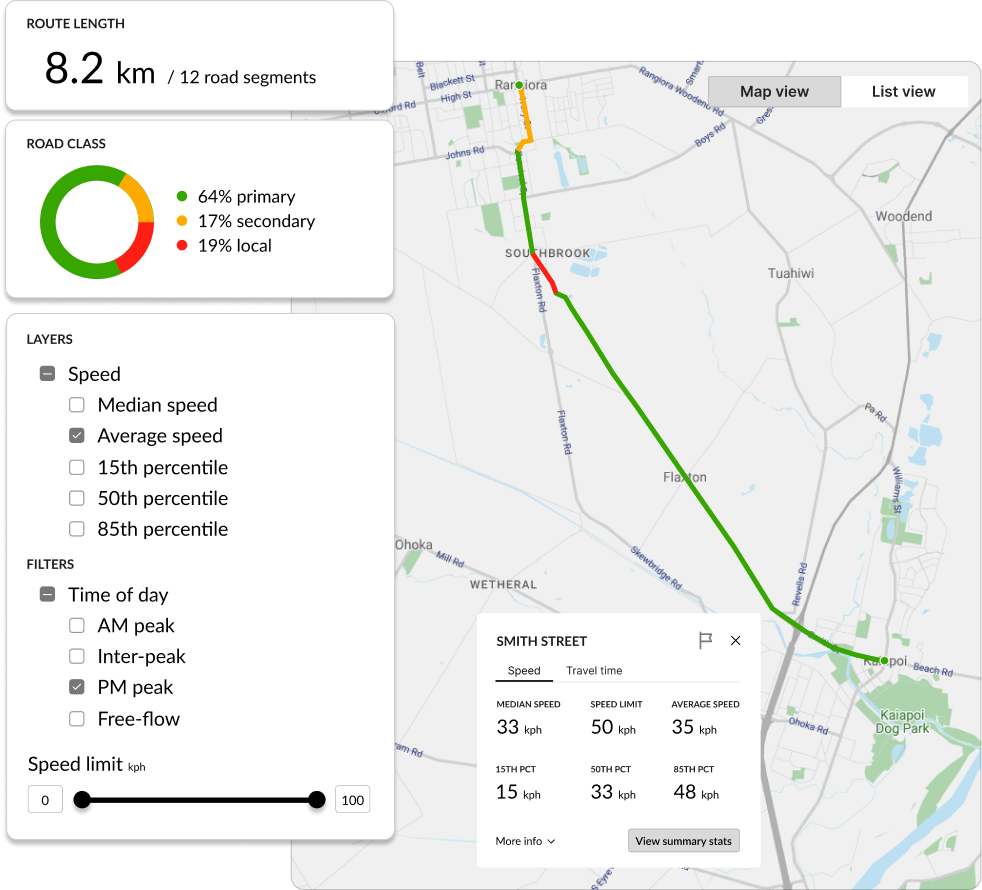 About TrafficFlow
Abley TrafficFlow, the ultimate solution for traffic and transport professionals, offers a comprehensive range of cutting-edge vehicle speed and journey data solutions that are specifically designed to address various traffic-related challenges. Our innovative products provide you with invaluable historical traffic and transport data, enabling you to conduct your analysis quickly and efficiently, and giving you access to a wealth of information that would be impossible to gather solely through field collection methods.
With Abley TrafficFlow, you can be rest assured that your data will be delivered within the specified timeframe, ensuring that you can seamlessly integrate it into your projects without delay. Furthermore, our consistent data format guarantees ease of use and convenience, as you can rely on a standardized format every time. Say goodbye to the hassle and risks associated with on-site data collection, as Abley TrafficFlow allows you to access the information you need without ever leaving the comfort of your office.
Discover the untapped possibilities of traffic and transport analysis with Abley TrafficFlow, and unleash the potential of dependable, streamlined, and easily accessible data solutions. Our solutions harness an extensive repository of historical speed and trip data, offering a multitude of sample sizes that surpass traditional surveying methods.
Fast
Need it now? Your report will be delivered to you within 3 working days, guaranteed. We understand the importance of timely information in the fast-paced world of traffic and transport analysis. That's why we have streamlined our processes to ensure that you receive your report promptly, allowing you to stay ahead of your projects and make informed decisions without any delays.
Analysis ready
Our cutting-edge data solutions go beyond the basics, providing you with comprehensive information on traffic patterns, congestion hotspots, and vehicle speeds to anticipate future trends. We understand that to truly tackle traffic-related challenges, you need more than just raw data. That's why our innovative products offer in-depth analysis, allowing you to uncover hidden patterns and make informed decisions with confidence.
Comprehensive
Our solutions harness an extensive repository of historical speed and trip data, offering a multitude of sample sizes that surpass traditional surveying methods.
Safe
TrafficFlow solutions provide a reliable and secure method of gathering traffic and transport data, eliminating the need to send yourself or your team into the field.
Features
Choose from a range of diverse products tailored to meet your specific needs.

Each product offers three different pricing tiers to suit your budget and requirements.

Harness the power of TomTom's extensive Historical Traffic Analytics database, which covers over 80 countries worldwide.

Easy ordering process

Analysis-ready data delivered directly to your desktop, eliminating the need for time-consuming field data collection.
Benefits
TrafficFlow products utilise probe and sensor data, eliminating the risks associated with field data collection.

Did we mention that it's fast? No field data collection, no TMPs, just submit your order and stand-by for delivery.

Eliminating field data collection means that we can deliver comprehensive data over long durations for a fraction of the cost of traditional surveys.
What are the TrafficFlow Products?
Want to know more?
Get in touch with Jacob.
Who we are

Abley is a specialist New Zealand owned transport planning, road safety and geospatial technology company. Founded in 2003, we work with organisations in New Zealand, Australia, Indonesia, USA, and Canada across central, local government and large organisations.
We are passionate about inspiring positive change for our clients. We enable this by developing transport strategies and infrastructure solutions that support safer travel, improved accessibility, and greater mobility for our clients and in turn, their customers.  
The products and services that we design leverage our expertise in transport planning, engineering, road safety, location data and geospatial systems.